$15 - $25
21

Jul
Dante Hall - 500 CLUB SUMMER SERIES
July 21, 2017 - 8:00pm
Dante Hall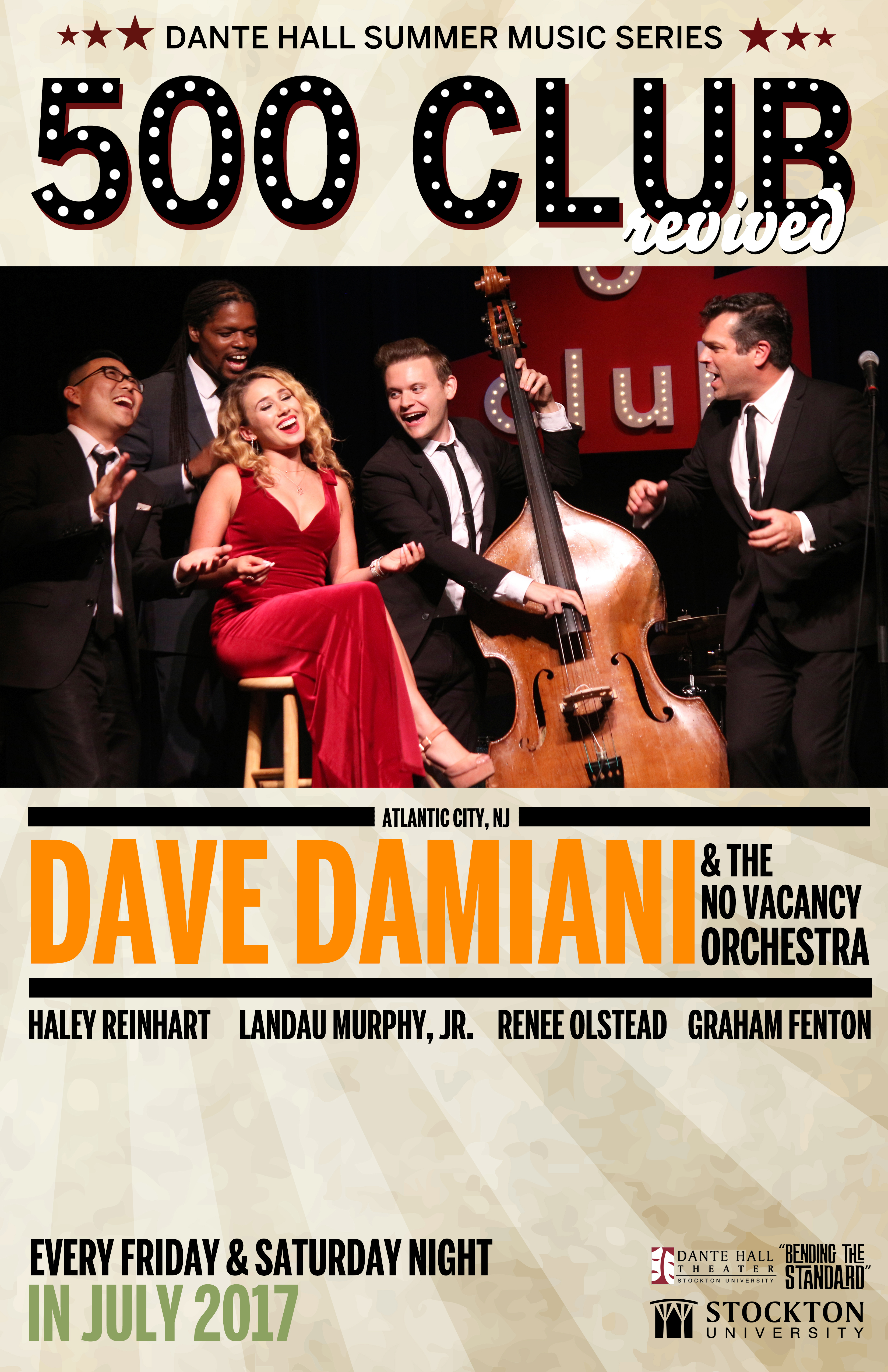 500 CLUB SUMMER SERIES Featuring Dave Damiani and The No Vacancy Orchestra (EVERY Friday & Saturday throughout July) A Night at the 500 Club will celebrate the legacy of gaming and entertainment genius Paul "Skinny" D'Amato. Skinny revolutionized entertainment and casino gaming in Atlantic City and all over the world. At our 500 Club show we will be debuting new material by Dave Damiani, Renee Olstead, Haley Reinhart, and Landau Murphy Jr with the incredible 17 piece No Vacancy Orchestra! Spanning the decades from the 40s to present day covering artists such as Frank Sinatra, Tony Bennett, Jack Sheldon, Frankie Valli, The Beatles, Amy Winehouse and even Beyonce'. With world class dancers, singers and musicians this will be a show "not to miss."
DAVE DAMIANI & THE NO VACANCY ORCHESTRA have performed all over the country backing up such artists as George Benson, Jane Monheit, Steve Tyrell, Billy Vera, Tierney Sutton, Rick Braun, Spencer Day, Renee Olstead, Landau Murphy Jr, Haley Reinhart and many more. Dave's fresh and clever versions of American Songbook Classics have been a staple on XM 71 Siriusly Sinatra, FM, AM & internet radio. He has performed on CBS Vegas with Michael Chiklis& Dennis Quaid as well as Fox Sports Net, ABC's Sonoran Living, Budweiser Commercials, Polo Ralph Lauren promos, and private events for Leonardo DiCaprio, Ryan Seacrest, David Hasslehoff, Jack Klugman, Rick Caruso, Relativity Media, Apple Computers and many more…
His vision for The Great American Songbook and bringing back class and style has truly earned him the moniker of a modern day Norman Granz (jazz impresario).
HALEY REINHART stormed on to the scene in 2011 by placing 3rd on American Idol. Having performed with Tony Bennett at the finale was the perfect vehicle for her to join Scott Bradlee's Post Modern Jukebox. Since, Haley has over 50 million views on youtube, a record contract with Concord Records, and a voice on "F is For Family" (Bill Burr's cartoon on Netflix). She has traveled the world and has some of the most loyal fans ever!
LANDAU MURPHY JR. was winner of America's Got Talent in 2011 on NBC. He is still the # 1 vote getter of all time on AGT. He recently released his 3rd studio album LANDAU in late 2016. He went from car washer in West Virginia to international celebrity. His personality and stage persona are larger than life. He looks like Bob Marley but sings like Frank Sinatra!
RENEE OLSTEAD was discovered by David Foster when she was only 12 years old. She recorded 3 studio albums with him under the Warner Brothers Label. Since, she has performed all over the world with Christ Botti, John Daversa, David Foster, David Arquette, and many more. Renee also has an incredible film and stage career. In 2016 she starred in the Universal Pictures release Unfriended that grossed over 64 million dollars. You might also recognize her from Secret Life of an American Teenager, 13 Going On 30 & Still Standing. She is currently in production on a new series from Netflix.