$100-$150
14

Apr
Splash of Love - with Mario Lopez & Dave Damiani
April 14, 2018 - 6:00pm
The Proud Bird Food Bazar and Event Center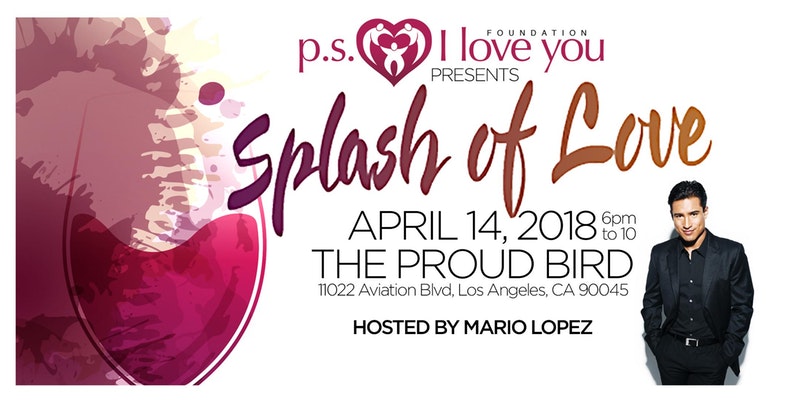 Splash of Love is our annual gala event and fundraiser where attendees enjoy an evening of live entertainment; heavy passed hors-d'oeuvres, exceptional whiskey pours from your favorite distilleries and others, premium wine tastings, and community networking.
Hosted by Emmy Award Winning Host and NY Times Best Selling Author Mario Lopez, this year Splash of Love is being held at the legendary, and newly remodeled Proud Bird Food Bazaar & Events Center Grand Ballroom at LAX, better experience and more space.
Join us as we bring together your favorite distillers of fine spirits and boutique wineries to raise awareness and support for our social-emotional learning program Love4Life. Celebrating 20 years of programs and successful mentoring in schools throughout Southern California. Show your support with an evening of entertainment, specially branded performances, and our unique silent auction.
Each year restaurant owners, operators, bartenders, celebrities, and change-makers in the arena of youth health and well being come together, to raise money for our social and emotional learning program Love4Life.
Pouring for a cause this year include the following:
Buffalo Trace Distillery/ Sazerac Expressions
(Blantons, W.L. Weller, Eagle Rare, Sazerac)
Koval Distillery
Ketel One
Casamigos
Dalmore/ Jura
The Macallan
Coco Taps by Coco Vinny
Casa Mexico
Battaglini Wines
Triumph Winery
European Wine Cellars, and more as we reach The Splash!
Follow us on Facebook, Instagram, and Twitter for exclusive guest and performer info!
YOU MUST BE 21 YEARS OR OLDER WITH A VALID GOVERNMENT ID TO ATTEND